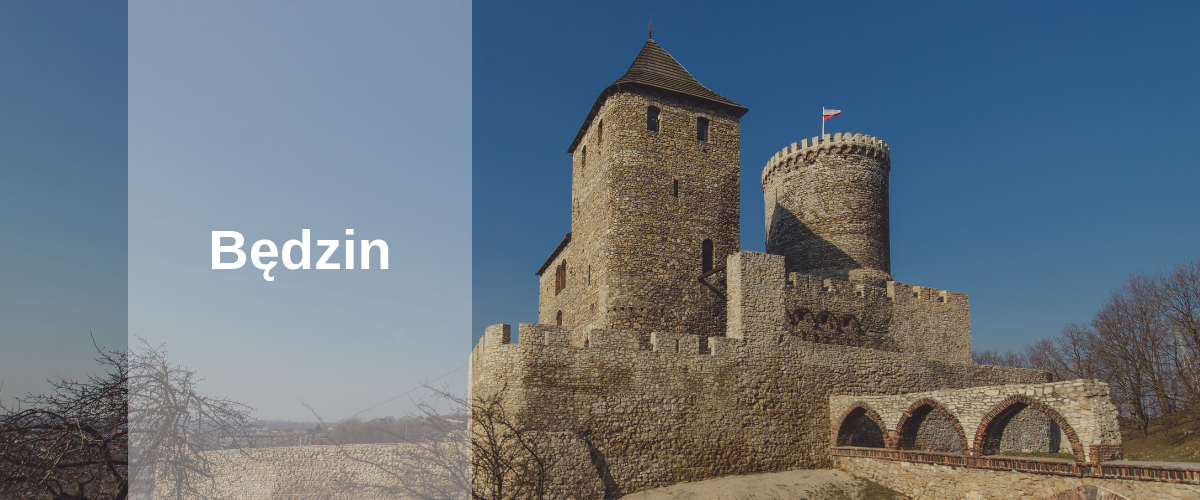 Będzin is the historical capital of the Dąbrowa Basin. It was here where years ago, a trade route from Kraków to Greater Poland ran over the border, and so did the waterway from the springs of the Warta River towards the waters of the Vistula River. Today, Będzin covers 37 square kilometres and has a population of approximately 55,000 inhabitants.
In today's Będzin, we can still trace back some of the traditions of the past. The city can boast the largest municipal marketplace in southern Poland, stretching over 40,000 square metres. It is estimated that on trade days nearly 1,200 merchants sell their goods there.
Będzin has a very convenient traffic network connection with the rest of the country. The city is located at the intersection of two important expressways: state road no. 94 from Wrocław to Kraków intersects here with state road no. 86 from Katowice to Warsaw.
Worth visiting is the Museum of the Basin in Będzin, which includes a medieval castle with a tower, erected as part of the system of so-called Eagles' Nests and the Mieroszewski Palace. Underneath the hill where the castle is located, there are the Będzin Underground Facilities, decorated with arrangements that refer to the history of the city.
Będzin also houses the Basin Children Theatre (Teatr Dzieci Zagłębia), which for years has been considered one of the most avant-garde Polish stages for children and youth and one of the best children's theatres in Poland and abroad. Today, the theatre is still one of the most important cultural centres in the Metropolis GZM. Renowned, prominent theatre critics have positioned the Basin Children Theatre alongside such artistic phenomena as Tadeusz Kantor's Cricot II Theatre from Kraków and Jerzy Grotowski's Laboratory Theatre from Wrocław.
One of the places that enjoy great popularity in Będzin is St. Dorothy Hill. It is a hill known throughout the Silesian Province, towering above Będzin and Sosnowiec, with a historic church and beautiful areas to stroll and explore. The city attractions include, among others, Family Activity Zone, Water Playground, Pumptruck, Skatepark and Dog Activity Zone.
The most characteristic building in Będzin is the Castle.
Będziński Klub Filmowy 2020
Przed nami kolejny cykl "Będzińskiego Klubu Filmowego". Tym razem zobaczymy sześć filmów poprzedzonych prelekcją dr Justyny Trzcińskiej-Rosik. Zapraszamy do Kina "Nowość" w Będzinie. Wstęp wolny! 24 lipca – Ból i blask 28 sierpnia – Ikar – Legenda Mietka Kosza 25 września – Parasite 23 października…

Load more