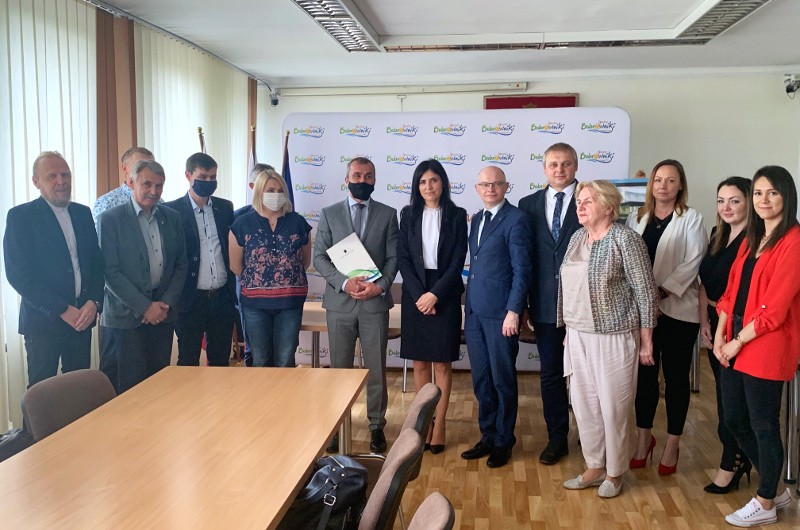 Wójt Gminy Bobrowniki Małgorzata Bednarek podpisała umowę z wykonawcą dotyczącą budowy hali widowiskowo – sportowej w Rogoźniku. W ubiegłym roku gmina otrzymała dofinansowania na łączną kwotę prawie ośmiu milionów złotych. Środki zewnętrzne pochodzą między innymi z Ministerstwa Sportu i Turystyki i opiewają na kwotę niemal że pięciu milionów złotych. Niecałe dwa miliony to dofinansowanie z Górnośląsko – Zagłębiowskiej Metropolii. Pozostałe środki pochodzą z budżetu funduszu europejskiego.
Podczas uroczystego podpisania umowy obecni byli przedstawiciele firmy, która będzie realizować inwestycję, a także Radni Rady Gminy Zbigniew Binko, Jerzy Chudy, Wojciech Koc oraz Marcin Morek, oraz pracownicy Urzędu Gminy z referatu inwestycji i zamówień publicznych.
To ważny moment dla naszej gminy, z tego miejsca chciałabym podziękować Państwu Radnym. To dzięki Waszej ostatecznej decyzji dziś możemy się spotkać i rozpocząć nową historię dla Rogoźnika oraz całej gminy; komentuje Wójt Gminy Małgorzata Bednarek.
W przyszłym tygodniu zostanie oficjalnie przekazany plac budowy, co wiąże się z rozpoczęciem inwestycji. (ps)
Źródło: UG Bobrowniki